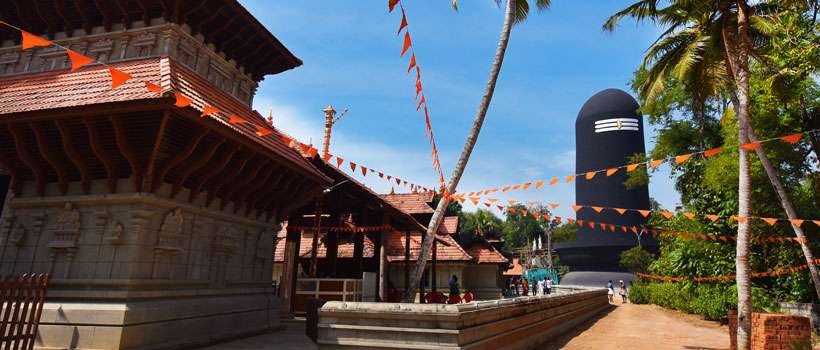 The Chenkal Maha Sivalingam is a revered Hindu temple located in the Chenkal village of Thiruvananthapuram district in Kerala, southern India. The temple is dedicated to Lord Shiva and is believed to be one of the oldest Shiva temples in the region, with a history dating back over 2000 years.
The main deity in the temple is the Maha Sivalingam, which is said to be one of the largest Shiva lingams in the state of Kerala. The lingam is made of black stone and is said to be self-manifested, meaning it was not created by any human hand.
The temple is known for its beautiful architecture, intricate carvings, and rich history. The entrance to the temple is adorned with carvings of various Hindu deities, and the main shrine is a spacious hall with beautiful pillars and intricate carvings on the walls.
The temple hosts several important festivals throughout the year, including the Mahashivaratri festival, which is celebrated with great enthusiasm by devotees from all over the region. During the festival, the temple is decorated with lights and flowers, and special poojas (prayers) are conducted to honour Lord Shiva.
One of the unique features of the Chenkal Maha Sivalingam temple is the holy pond located within the temple premises. The pond is believed to have healing powers and is used for ritual bathing by devotees.
Overall, the Chenkal Maha Sivalingam temple is a must-visit destination for those interested in Hindu mythology and ancient history. The temple's rich history, beautiful architecture, and spiritual significance make it an ideal location for spiritual seekers and those interested in learning more about Hindu culture and traditions.
The Chengal Mahasiva Temple in Thiruvananthapuram district, Kerala, is home to the tallest Sivalingam in the world, which has entered the Guinness Book of World Records. The Sivalingam stands at an impressive height of 111.2 feet (33.9 metres) and is made of concrete and stone.
The construction of the Sivalingam was initiated in 2007 and it took six years to complete. The structure was designed by a team of architects and engineers, and the project was funded by the Chengal Mahasiva Temple Trust.
The Sivalingam is a representation of Lord Shiva, who is one of the primary deities in the Hindu pantheon. The Sivalingam is a phallic symbol, representing the energy and creative force of the universe. The Chengal Mahasiva Temple is dedicated to Lord Shiva and attracts devotees from all over the region.